The Ghana Grid Company has released a power rationing time table for both the Volta and Oti regions.
GRIDCo in a notice to the Electricity Company of Ghana (ECG), requested that the outages come into force from Thursday, March 18 to Monday, March 22, 2021. According to the timetable, power will be rationed at various times at various parts of the two regions for 12 hours.
According to GRIDCo, the power rationing in the two regions is to enable it to undertake repair works on transformers supplying power.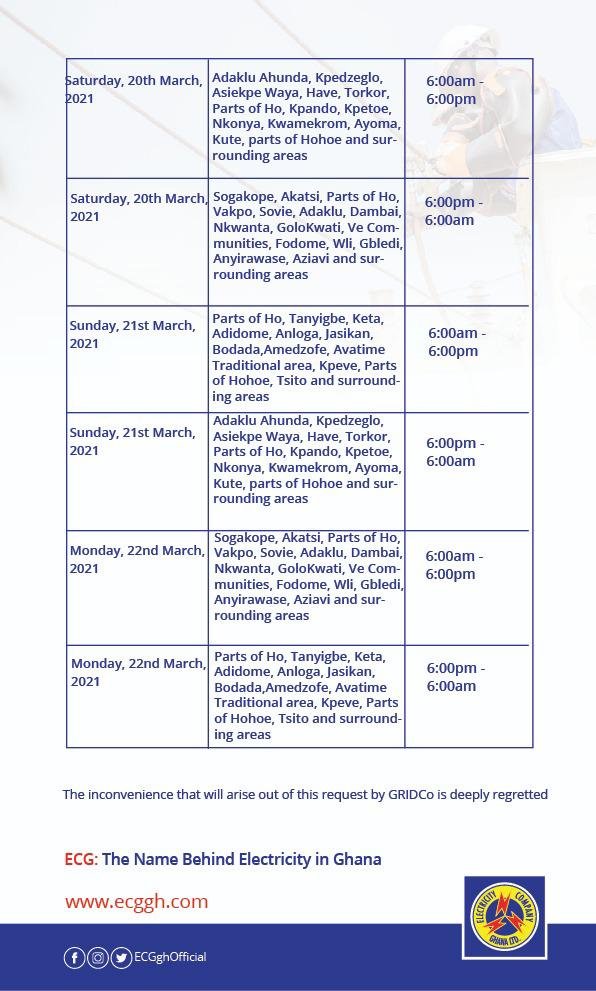 This comes after the Chief Executive Officer of the Ghana Grid Company Limited (GRIDCo), Mr Jonathan Amoako-Baah, said dumsor is not back but the country will, in the coming months, experience some intermittent power outages as a result of ongoing projects across the country.
A statement issued Monday, March 15, by Mr Amoako-Baah explained that although there was enough capacity to more than meet demand, works on the Pokuase and Kasoa substations, as well as other transmission line works across the country, have accounted for the intermittent outages.
"Ghana's system peak demand is close to 3,200MW with an installed capacity of 5,300MW – this means there's enough capacity to more than meet demand. Some intermittent outages are to be expected on the grid in the coming months due to ongoing projects," the statement said.
He added "there is a general willingness and commitment by all stakeholders in the sector to work fervently to reduce the impact it will have on customers in the country."